Download the entire album in ZIP format here.
Amanda and I made a record of cover songs à la the Songs Not By Me project for our baby back in 2013 and decided to give it another go…so here's another record for our new baby and for you to play for your baby or babies; however young, old, literal or metaphorical they may be.
Songs Not By Your Parents Vol. II
Amanda & Mike Vasas
with special guest performances by August Vasas
June, 2017
GRHL28
1. It Only Takes A Moment – Jerry Herman
2. Hello, Hello – Sopwith Camel
3. Who's My Pretty Baby? – Woody Guthrie
4. Side By Side – Harry M. Woods
5. Stuck In The Middle With You – Stealers Wheel
6. Zing! You're Adorable – James F. Hanley, Buddy Kaye and Fred Wise
7. Optimism Blues – Allen Toussaint
8. Dawned On Me – Wilco
9. Blow Away – George Harrison
10. Devoted To You – The Everly Brothers
11. Magic For Everybody – Sam Phillips
12. Betray My Heart / As – D'Angelo and Stevie Wonder
13. Heaven Must Have Sent You – The Elgins
14. O Father, All Creating – Samuel S. Wesley and John Ellerton
15. It Only Takes A Moment (Reprise) – Jerry Herman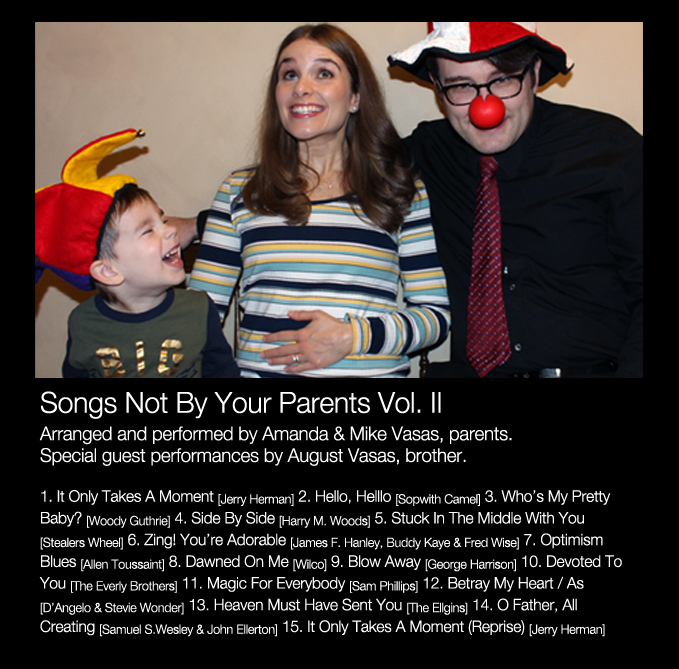 We hope you enjoy the record. Download the entire album in ZIP format here.